If you want to use your electrical devices at 220V without problems in your van, you probably need to buy a good pure wave inverter. Don't worry! In this post we will analyze a few models of pure wave inverter to help you decide which one, within your budget, best suits your needs. In addition, we'll tell you which one we chose to install in our van and how it worked out for us
Amazon's best pure sine wave inverters comparison of 2022
Table could not be displayed.
Most of the electrical power that is generated is at 50 or 60Hz, it depends on the country. There are also countries that have supplies at both frequencies.
Which pure wave inverter to buy for your camper? Buying guide
Whichever inverter you choose, keep in mind that the power consumed by the devices you connect should not exceed 85% of their rated power. With this in mind, we leave you with a small buying guide that we hope will help you find the pure sine wave inverter you need.
1. Victron Energy Phoenix Pure Sine Wave Inverter 12-220V 1200W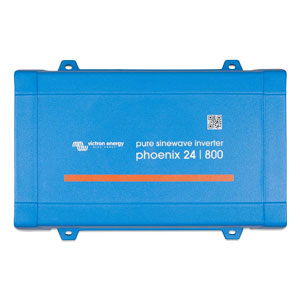 The Victron Energy Phoenix 12/120 pure sine wave inverter (see on Amazon) is a device that has supreme quality. In general, products from the Dutch brand Victron Energy have an impeccable reputation due to the great performance they offer.
Through its VE.Direct port, either by usb cable or bluetooth, you can configure a large number of parameters:
Output voltage between 210 and 245V.
Output frequency 50 Hz or 60 Hz.
Alarm trigger levels and low battery voltage reset.
Low battery voltage trip and reset levels, or dynamic shutdown.
ECO mode on/off and ECO mode level sensor.
Another great point in favor of this inverter, and Victron Energy in general, is the high reliability it offers, it has different safety systems, error-proof, among which are:
Output short circuit.
Overload.
Battery overvoltage.
Battery undervoltage.
Overheating.
DC ripple too high.
Advantages of the Victron Energy Phoenix inverter
The brand's reputation guarantees supreme quality and high reliability and performance.
Configurable via Bluetooth interface and the Victron Energy app.
It has a configurable ECO mode that will help you consume less energy.
Efficiency up to 92%.
Available with different sockets: Schuko, UK (BS-1363), AU/NZ (3112) or IEC-320.
Remote switch connection available.
has a ground socket for connecting a ground wire.
It includes a very detailed user manual in English.
Disadvantages of the Victron Energy Phoenix Inverter
It only has one output.
Because Victron devices are oriented to more professional sectors do not have USB outputs that can be useful in a camper.
Due to its high quality, it has a higher price than other brands.
It does not include the necessary cables for connections.
Buy on Amazon
If you need to download the Victron Phoenix inverter manual in pdf click on the link. For 12V, 24V, 48V, all powers and also in Spanish!
2. Pure wave inverter Ampeak Upgrade 2000W
The pure wave inverter Ampeak Upgrade 2000W (see on Amazon) is an inverter that provides 2000 watt continuous power, converts 12V dc battery power to standard 110V ac, features 2USB ports 31W(3.1Amps each), 3AC outlets and DC cigarette lighter.
This pure wave inverter includes a series of security systems that protect it against:
Under voltage.
Over voltage.
Over temperature.
Overload.
Over voltage.
Reverse polarity.
In addition, when the temperature exceeds 190°F, kindly advise to turn off some high power loads to avoid the temperature from continuing to rise to trigger the overheat protection 221°F.
Accessories include:
3FT battery cables included.
Advantages of the Ampeak Upgrade 2000W inverter
17 safety protections

.

Intelligent temperature control by silent fans.
2000 watt continuous power.
Include LCD screen with safety and basic information (input voltage, battery state, temperature, etc).
2USB ports 31W(3.1Amps each), 3AC outlets and DC cigarette lighter 216W.
Disadvantages of the Ampeak Upgrade 2000W inverter
The included cables could be of better quality.
Buy on Amazon
3. Kinverch 1500W pure sine wave inverter
Advantages of the EDECOA inverter 12-220V 1500W
After you contact the bluetooth app with the inverter, you can set automatic power on/off easily on your phone.
Wireless app controller app.
Comes with battery connection cables.
Silent fan.
Disadvantages of the EDECOA 12-220V 1500W inverter
Some users report that Bluetooth function doesn't connect on their phones.
Fan sometimes is loud.
Buy on Amazon
4. Kinverch 500W Pure Sine Wave Inverter
The GreenCell 12-220V 2000W PRO pure sine wave inverter (see on Amazon) isn't not very powerful inverter, but provides 500W continuous, 1000W peak and it is very portable inverter.
Designed with dual AC outlets and one 2A USB charging port.
To ensure greater safety in its installation it has safety protections among which are:
Low-voltage.
Over-voltage.
Over-load.
Short-circuit
Over-temperature.
This inverter is also available in 750W, PSW1000W, PSW1500W, 2000W, PSW2000W, 3000W, PSW3000W, 5000W, so it can be adapted to almost any kind of need.
Advantages of Kinverch 500W Inverter
It is very portable.
Available in various power ratings.
It has 2 AC outlets.
It has USB outlet.
Includes 2 replaceable 30A fuses and 2 15A fuses.
Disadvantages of Kinverch 500W inverter
Isn't powerfully but is available in various power ratings.
It does not offer the possibility of connecting a remote switch.
Buy on Amazon
5. BESTEK Pure Wave Inverter 12-220V 1000W
The BESTEK 12-110V 1000W pure wave inverter (see on Amazon) is a portable 1000W power inverter, suitable for batteries of 125Ah or more that has an efficiency of over 85% and very good features.
It has two Schuko outlets that will allow you to connect two devices in a simple and convenient way.
Thanks to its display you will have access to relevant inverter data such as, for example, input and output voltages, output watts and if the protection mode has been activated due to any of the following reasons:
Overload.
Overvoltage.
Undervoltage.
Overheating.
Short circuit.
Overcurrent.
Something remarkable about this inverter is that it has a very low harmonic distortion. In one of its ratings a user points out that he measured it with a Fluke 435 (see on Amazon) and obtained the following results: From 0.5% at idle to 2.5% at full load.
Advantages of the BESTEK 12-110V 1000W inverter
It has 2 Schuko outlets and 2 USB outlets of 2.4A each.
Comes with power cables with alligator clips.
It has a smart LCD display and LED indicator for easy viewing of errors.
Includes 4 replaceable 40A fuses.
It has CE and RoHS certifications.
It is very light and compact.
Its manufacturer offers 18 months warranty, 6 months longer than normal.
Disadvantages of the BESTEK inverter 12-110V 1000W
Although its efficiency, higher than 85%, is still high, it is lower than other brands.
Some users point out that, although it is described as quiet, it is a bit noisy.
It does not offer the ability to connect a remote switch.
Buy on Amazon
Remember that the power consumed by your devices should not exceed 85% of the inverter's rated power.
Want to buy a cheap pure wave inverter? Check out the offer available on Amazon 2022
No products found.
Alternating current is a type of electric current whose voltage is varying at constant intervals in a cyclical manner, half the time it will be positive (the energy circulates in one direction) and the other half negative (it circulates in the opposite direction) forming, normally, a sine wave.
What are the characteristics of a pure sine wave inverter?
The main characteristic of pure sine wave inverters is that they are capable of reproducing a uniform sine wave Well, they deliver a current identical to what we can get from a normal mains socket. This makes them ideal for use in electronic devices that work with alternating current and other types of devices that are more sensitive to these changes.
As a picture is worth a thousand words, here is a graph where you can see the difference in the waves emitted by each type of inverter: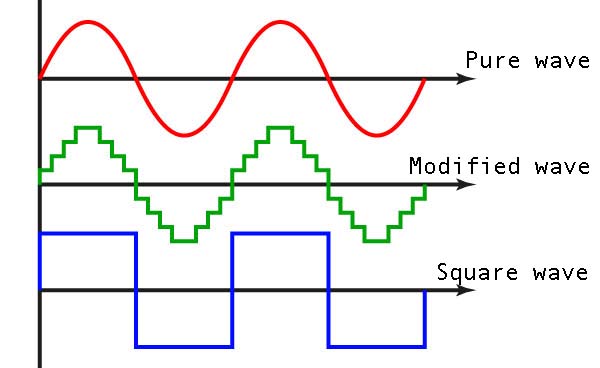 Pure sine wave inverters are more expensive than modified sine wave inverters, are they worth it?
The quick answer would be yes, because with a pure wave inverter you will get the following benefits:
The alternating current obtained after conversion is equal to that of the conventional power grid.
There are electrical devices that do not work properly, or not at all, with modified wave inverters:

Appliances with induction or AC motors.
Complex appliances or appliances with electronics that work only with AC (those that do not have a transformer).

With a pure wave inverter you will not put at risk the lifetime of this type of devices.
They are more efficient in energy conversion.
As you can see, using a pure wave inverter offers many advantages over modified wave inverters, but if your budget is tight and you plan to use the inverter very occasionally, and with devices that have a transformer, it may not be worth paying that extra cost. If you think this way, and you want to buy the BEST modified waveform inverter for your van, you might want to take a look at our post.
Benefits and disadvantages of pure sine wave inverters
Advantages of pure sine wave inverters
The current delivered by a pure sine wave inverter is like that obtained from the conventional power grid.
THD much lower than modified wave inverters (Pure wave: Around 3. Modified wave: Around 30).
Suitable for the operation of electronic equipment and/or AC motors.
More efficient in energy conversion.
Do not cause plugged-in devices to be noisier.
Disadvantages of pure wave inverters
Because their technology is more complex their price is higher.
Final conclusions about pure sine wave inverters and their price
To close this post we would like to give our opinion and tell a little bit about our personal experience. We chose to install a Phoenix Victron 12V 800W pure sine wave inverter (see on Amazon) in our van and we can not be happier… The manual comes in Spanish, with lots of useful and clear information. All the devices we have connected have worked perfectly and without making strange noises. In addition, we decided to put a bluetooth adapter to connect it with the Victron Energy app.
Perhaps our only but, was not having bought the 1200W model, to have more margin in terms of the power of the devices that we could use, but, with all the expenses of the camperization on top, it seemed to us that its price was a little out of budget and that it would not be worth it because we did not plan to use appliances with much consumption.
Therefore, without any doubt we believe that investing in a pure wave inverter is worth it, especially if you intend to use electronic devices.